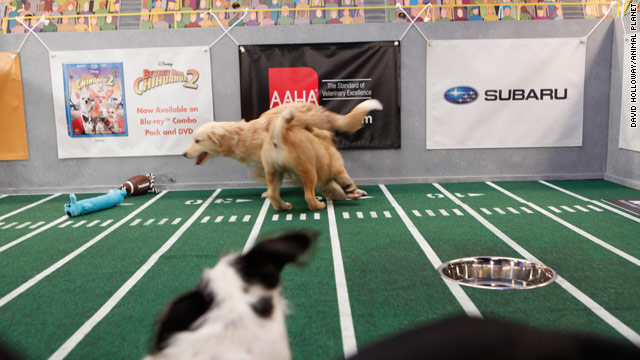 Are you ready for the cutest, most adorable faux sporting event of the year?
Animal Planet has announced the lineup for Puppy Bowl VII, the annual Super Bowl antidote pitting irresistible pups against each other and a slew of chew toys on the gridiron.
The football-with-puppies game has aired the same day as its fellow venerated American tradition, the Super Bowl, for the past seven years.
The 20-pup starting lineup was assembled from shelters and rescues across the country and as far as the U.S. Virgin Islands, all of whom will be vying for the title of MVP, or most valuable puppy (surely you knew that).
Among our favorites: a Lab mix named Jack, who has apparently learned to deal cards and pick up some hours at the local casino in the 12 weeks he has been alive, according to his profile; and 16-week old "Little Red," a shih tzu-beagle mix who has a culinary degree.
Check out the complete starting lineup
Ratcheting up the cuteness factor this year is the addition of chicken cheerleaders on the sidelines and "puppy-cam technology" that will enable fans to experience the field from a player's perspective, Animal Planet said.
And, 3-D fans take note: For the first time in Puppy Bowl history, the action will be broadcast in a 3-D version that will premiere on the "3net" network, the brainchild of Discovery Communications, Sony and IMAX.
Forget the Black Eyed Peas - the Bissell Kitty Half-Time Show will be back with a kitty-inspired acoustic solo performance that promises to dazzle canine and feline fans alike.
Fortunately, you won't have to choose: Puppy Bowl begins at 3 p.m. ET/PT on Sunday, February 6, on Animal Planet, more than three hours before kickoff of Super Bowl XLV.
Canine chaos reigns at the
Puppy Bowl
,
Animal Planet
's adorable response to the other big game this Sunday.
What started seven years ago as a network space-filler is now an annual event watched by more than 8.6 million people. Executive Producer Melinda Toporoff said no one expected such a tremendous public reaction.
"At first, it was kind of like our Yule log -- we just needed to put something on TV during the Super Bowl," she said. "But it has transformed from style over substance to a lot of substance. We're all pleasantly surprised by how well it does."
Aside from boosted ratings, the Puppy Bowl -- a mock football game played by puppies drafted from shelters across the country -- offers help for homeless animals.
"It's really a call to action," Toporoff said. "We want to raise awareness for shelters everywhere and get more puppies adopted."
This year, Puppy Bowl VII features 20 players in the starting lineup. Among them are Oliver, a 9-week-old Great Pyrenees who, according to Animal Planet player stats, is a movie buff, and Brownie Sundae -- a 10-week-old cocker spaniel mix with a knack for spelling bees.
"There's lots of backstage cuddling," said Puppy Ref Andrew Schechter, who describes his referee role as "more of a glorified pooper scooper." "We're lucky that all the puppies are the most adorable puppies possible."
The puppies score touchdowns by dragging a chew toy over the goal line. At the end of the game, the "Most Valuable Puppy" is selected based on athletic performance and minimal napping on the field -- though no one's sure if participants are cognizant of the competition.
"The show is very tongue-in-cheek," Schechter said. "It's cute and fluffy and fun, but the idea is to help the puppies."
More than 250 animals have been adopted through Puppy Bowl since 2004, he said.
By the time the show finishes recording in October (for editing reasons, Puppy Bowl can't be live), most of the "starting" puppies have already found homes. Big Red -- a shepherd mix featured in Sunday's game -- is still waiting for an owner, however.
"Everything's really evolved since the beginning," Schechter said. "It's something we're really proud of."
New this year, chicken cheerleaders will squawk from the sidelines. Pet owners submitted online videos to the "kiss cam," which will showcase intermittent human-pet displays of affection.
Kittens return to jump around in a frenzy of lights and streamers during the halftime show.
Schechter said the show is full of surprises, including an instance of "puppy indecency" in 2009.
"Cover your eyes, folks!" the announcer declared during Puppy Bowl V. "We've got a streaker!"
A clean-shaven Chinese crested puppy -- "censored" by a Girls Gone Wild-style digital black rectangle -- burst onto the miniature football field, weaving between baby Labradors and beagles and Chihuahuas.
"I got her. It's OK," Schechter said, gently lifting the traditionally furless pooch. "Come on, you're out of here."
Toporoff said it's all entertaining.
"There's just the sheer 'Aw!' factor," she said. "That makes it hard to look away."
Watch Puppy Bowl VII on Sunday, February 6, at 3 p.m. on Animal Planet.
**************************
WE NEED SOMEBODY, NOT JUST ANYBODY
WE'RE LOSING BADLY - PLEASE HELP US
PLEASE HELP ME?
PLEASE DON"T FORGET TO VOTE IN THE ANIMAL RESCUE SITE'S SHELTER CHALLENGE
AS OFTEN AS YOU CAN EVERY DAY.
WE DESPERATELY NEED YOUR VOTE TODAY, WE ARE FALLING FURTHER BEHIND #1 IN WV
THANK YA'LL FOR YOUR VOTE
If you try to leave a comment on our blog but are unable to, please drop us a line at:
so that we know we have a problem and can try to fix it.
=======================
PLEASE VOTE FOR AHGRRS
The above link will take you to the Animal Rescue Site where you will get to click to donate a free bowl of food to homeless animals. After you do that you will be presented with a "Thank You" page; at the top center of that page please click on the "VOTE TODAY" button. That will then take you directly to the voting page. The only information that you need to enter is to select "WV" as the State from the drop down menu and enter "Capon" for the City. Then click on "Search." The page will then do its' thing and will end up showing "Almost heaven Golden Retriever Rescue & Sanctuary, Inc. Capon Bridge, WV 26714." A "VOTE" button will also appear. Click on that "VOTE" button. After you vote you will see a confirmation page that requires you to identify an animal photo; this eliminates illegal machine voting. The answer is simply the type of animal that you see; dog, cat, turtle, fish, cow, etc. - not a specific breed. You can cast one vote everyday from as many different computers to which you have access. Voting will run for 10 weeks. You can have the Animal Rescue Site send you a daily reminder to "click" for free food; then you can vote in the All-Star Shelter Challenge. The more friends you can rally to vote the better our chances of winning. Every vote, every day, every computer - counts.


In the West Virginia state competition, as of

2/04/2011

, AHGRRS has continued to fall further back in 2nd place. That can change back again over a few days so don't give up your effort---- VOTE We've got 15.18% of the WV vote today, up from yesterday when we had 15.11% ; #1 has 25.76% and yesterday they had 25.70%.

There's now a 10.58% gap (10.76% yesterday) which we, hopefully, can reverse in just a week of heavy voting.

We're now at #133 nationally; yesterday we were #134. The WV #1 shelter is at #55 nationally (yesterday #55); now

78 spots

ahead of us; it was 79 spots ahead of us yesterday. We are truly appreciative of your voting efforts on our behalf.
PLEASE CONTINUE TO HELP
VOTE
AND PLEASE TRY YOUR DARNEST TO GET OTHERS, FRIENDS AND FAMILY MEMBERS, TO ALSO VOTE