GEEZ, OUR GUYS DIDN'T DO TOO GOOD.
Hey Hounders,
HOUDINI (aka: CHARLIE)
Well Dad stayed home with us to swatch the race today. He planned to telecommute until noon when the race was supposed to start and then watch it with us on TV. Then they announced that the race would be starting at 7 PM in "prime time" on TV (obviously to get a bigger audience). So Dad just kept telecommuting. We bothered him as much as possible but he finally threw us all out, except for Charlie. Charlie is
rewarded for bad behavior; he can jump the fence and does. He also comes back when Dad calls him so he gets about 5 minutes outside to do his business and then goes
LILY
back in the house. To top it off Dad gives him a treat when he goes in, a reward for for coming when called he says. The rest of us see it as bad behavior rewarded by getting a treat and getting to stay inside the warm house while the rest of us are out in the cold. But we digress. THE RACE finally started about 7:15 PM and after only 1.5 laps
PATTI & JUBAL
there was a big accident and Danica Patrick's car was damaged. She had to get it fixed and came back into the
race but she was wayyyyyy behind. The Jeff Gordon's engine blew up and he was out of the race. Mom's guy, Ryan Newman, got a flat tire, doing about 200 mph at the time, and spun out. That put him down for most of the race. So none of our drivers had a stellar night. With about 40 laps left one of the drivers slammed into a jet dryer truck and started a huge fire that delayed the race for about 2 hours. At about 11 PM Mom and Dad gave up and went to bed and shut off the TV so we
ALEX & BORU
didn't see the end of the race.
We had to read about it this morning. Not a good start to the season. Hopefully things will get better.
Click HERE to watch the highlights.
TBH+K
http://info.avonfoundation.org/site/TR/Walk/WashingtonDC?px=5839357&pg=personal&fr_id=2160
,

By David Newton


ESPN.com
DAYTONA BEACH, Fla. -- Welcome to the "Great American Tweetup."
Which came after the "Great American Fireball."
Which came during the James Taylor "I've Seen Fire And I've Seen Rain" 500.
Which almost became the
Dale Earnhardt Jr.
Victory Tour.
When, 50 years from now, people talk about Monday night's 54th running of the Daytona 500, they won't remember who won as much as what happened with 40 laps remaining.
And what didn't happen on the final lap, which ended at 12:55 a.m. ET.
Bizarre is the only way to describe it all.
"It was bizarre," said Earnhardt, who ended up second to
Matt Kenseth
in a green-white-checkered finish.
But it wasn't the race that was bizarre. Earnhardt called it one of the tamest 500s in recent memory, which in many ways it was, considering the huge wrecks seen throughout Speedweeks.
Again, it goes back to what happened with 40 laps remaining and how Earnhardt fell one position shy of ending his 129-race losing streak. If you were asleep and missed it, here's a recap.
First to what happened with 40 to go.
Juan Pablo Montoya
was trying to catch the rest of the field under caution when something broke in his car, sending it into the back of a jet dryer clearing debris at the top of the track.
The jet fuel ignited, creating a huge fireball. The jet dryer eventually melted onto the track, and Montoya's car settled on the infield grass in a blaze of glory.
The good news is the driver of the jet dryer and Montoya escaped without serious injuries.
The bad news is that a race that was delayed more than 24 hours because of rain was delayed another 2 hours, 5 minutes while more than a dozen safety workers cleaned up the mess.
"That was frustrating," Earnhardt said. "Nothing like I've ever seen at a racetrack before."
Then the real craziness began.
Brad Keselowski
, in 14th place when the race was red flagged, began tweeting pictures of the fire, safety crew members, television crew members, other drivers … whatever was around him.
His Twitter account exploded as he picked up more than 100,000 followers. He also drew a crowd on the track, at one point surrounded by Earnhardt,
Denny Hamlin
,
Joey Logano
,
Jamie McMurray
and leader
Dave Blaney
.
At one point, Earnhardt took the phone, seemingly laughing at Keselowski's tweets.
"I heard he was in trouble for having a recording device in his car," Earnhardt said. "We did take the phone and put it to some use and look up the weather. So it did come in handy."
While this went on,
Danica Patrick
reflected on her second-lap, unavoidable crash that ended any hope of her being a contender at the end. Patrick also noted that she'd never seen more "flashing lights in one place" than those around the jet dryer and Montoya's car.
Earnhardt, when he wasn't checking out Keselowski's cellphone, was checking out fans in the stands.
"The one in the tie-dyed shirt stands out," he said over his radio.
Then there were drivers rushing to portable toilets and television cameras picking them up in search of relief -- Patrick and Earnhardt included.
See, bizarre.
[+] Enlarge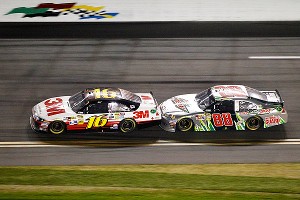 Streeter Lecka/Getty ImagesGreg Biffle, left, and Dale Earnhardt Jr. just couldn't catch up to Matt Kenseth at the end.
"One thing about racing, when you think you have seen it all, it finds a way to show you something that you never thought you'd see," Keselowski said on TV during the break. "And that's the case today in the Daytona 500."
But there was more.
When the drivers returned to their cars, the rain picked up to the point that pole sitter
Carl Edwards
and
Kyle Busch
ripped the tear-off sheets from their windshields to improve visibility.
For those who remember the 2002 Daytona 500, in which leader
Sterling Marlin
got out of his car with six laps remaining and fixed a fender rub under red-flag conditions, that's a no-no.
Like Marlin, Edwards and Busch were sent to the rear.
Again, bizarre.
But the collision that caused the delay was most bizarre. Seldom, if ever, in any form of motorsport will you see anything so spectacular and scary all at the same time.
Montoya could do nothing but smile about it afterward.
"I have hit a lot of things, but a jet dryer?" he said. "I mean, no."
To NASCAR's credit, it took most of the right precautions fixing the track. The last thing anybody needed or wanted was for this race in front of the first Monday prime-time audience to be interrupted again because the surface led to a wreck.
At one point, there was so much speedy dry where more than 200 gallons of fuel began a Fourth of July display that the track looked more like Daytona Beach.
The one thing NASCAR didn't do was let Earnhardt and four other drivers walk down and survey the damaged area, as they attempted. Earnhardt didn't appreciate that, radioing his wariness of the repairs.
This made the 2010 Daytona 500, in which there were two red-flag situations to fix a big hole between Turns 1 and 2, seem normal.
Earnhardt finished second that day, as well.
Which leads us to the green-white-checkered finish. Having Earnhardt challenging for the win seemed only fitting.
Much to Earnhardt's chagrin, he couldn't push
Greg Biffle
around Kenseth to give himself a chance to make a winning move.
But Earnhardt wanted to win. He wanted to win badly and made that clear in his postrace remarks.
"You do want to come in here and make sure the press knows that you wanted to win the race, because the press are going to tell the fans what you thought and you don't want to give anyone the impression that you are fine running second, because I am not," Earnhardt said.
That seemed bizarre as well.
Earnhardt also was happy with a big points day that will give him momentum going forward. He told crew chief Steve Letarte over the radio that the team was much stronger than a year ago, when he finished 24th after a big crash at the end.
The enthusiasm he showed at the end of last season and throughout the offseason appeared heightened and reinforced.
Perhaps this is the first step in Earnhardt going back to Victory Lane.
"We as drivers have to stick around," Earnhardt said with a look of satisfaction following a long, long night. "We didn't have the opportunity to scoot out of here. We had to stay and finish the job."
He almost did.
How bizarre would that have been?
David Newton covers NASCAR for ESPN.com. He can be reached at dnewtonespn@aol.com. Follow him on Twitter at @DNewtonespn.
http://espn.go.com/video/clip?id=espn:7623627